I don't know whether that is true or not but I do know the Bundy event is a bunch of bull.
So if Harry is involved then you will need to know who he is in order to hold him accountable.  He is also known as Gary Mack, the former curator of the Dallas 6th Floor Museum.   I know him from my work on the JFK Assassination HOAX, and have even been to his home with Robert Groden many years ago.  Before his employment at the museum he was a Television station manager outside of Dallas.
Turns out he plays many roles.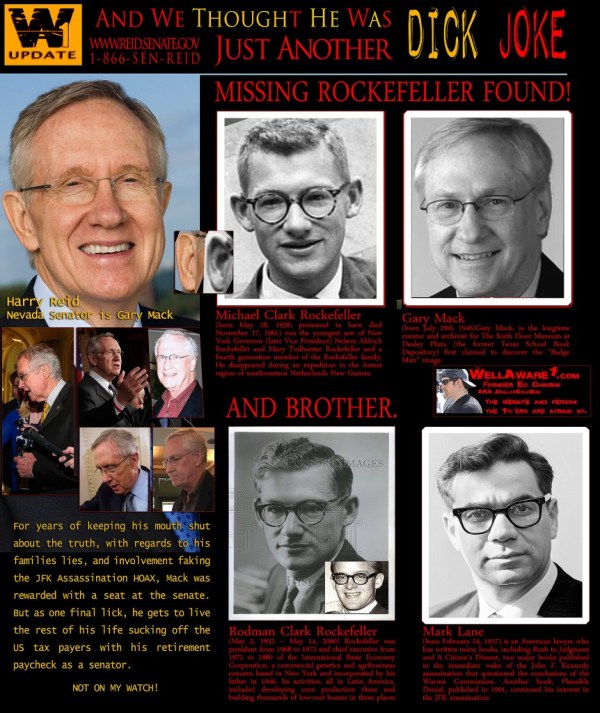 The talk of his involvement with the largest Chinese power company to build a solar farm in Nevada, they claim is no longer on the table due to not being able to sell the subscription needed to make the deal viable.  But that's not the interesting part.  As I mentioned in the poster above he also is known to be a Rockefeller.
Its public knowledge that the Rockefeller Management Company is no longer owned by the Rockefeller trust, and was bought out by the largest Japanese Real-estate company, Mitsubishi Estate Co.
History
The company was established in 1937 as a spin-off of the real estate holdings of the Mitsubishi zaibatsu. It was listed on the Tokyo and Osaka stock exchanges in 1953.[2]
Its largest concentration of assets is around the Marunouchi and Otemachi districts west of Tokyo Station, an area purchased by the zaibatsu from the Meiji government in 1890 and developed into an office district.[3] Today, the area houses the headquarters of Mitsubishi Corporation, Mitsubishi UFJ Financial Group, The Bank of Tokyo-Mitsubishi UFJ, Mitsubishi UFJ Trust and Banking Corporation, Mitsubishi Electric, Meiji Yasuda Life, Nippon Yusen and other Mitsubishi group companies, as well as numerous other firms not affiliated with the group.
In 1990 Mitsubishi Estate fully bought out Rockefeller Group in New York, the real estate company that then fully owned Rockefeller Center.[2] Since then the older section of the Center has been sold and the Rockefeller Group, still owned by Mitsubishi, owns the western corridor of the complex.
Mitsubishi Estate led the redevelopment of the Osaka Station area between 2010 and 2013, including the Grand Front Osaka complex.[2]
Mitsubishi Estate stated in November 2014 that it had agreed to sell a 41-year-old office building in Tokyo back to Mizuho Financial Group for $1.35 billion.[4]
In 2015, Mitsubishi announced that it would hold a majority stake in a redevelopment project north of Tokyo Station that would include the tallest building in Japan, a 1,279-foot skyscraper. The targeted completion date for the project is 2027.[3]
So I could see a deal with a Chinese company being real and if that's the case then you will see more Asian influence via Reid and his Rockefeller acting family in the future for sure.
Then add T. Boon into the mix and it spells nothing but drama.
sources. (January 2015)
Thomas Boone Pickens, Jr. (born May 22, 1928), known as T. Boone Pickens, is an American business magnate and financier. Pickens chairs the hedge fund BP Capital Management. He was a well-known takeover operator and corporate raider during the 1980s. As of September 2014, Pickens has a net worth of $1 billion.
Pickens was born in Holdenville, Oklahoma, the son of Grace (née Molonson) and Thomas Boone Pickens. His father worked as an oil and mineral landman (rights leaser). During World War II, his mother ran the local Office of Price Administration, rationing gasoline and other goods in three counties.[2] Pickens was the first child born via Caesarean section in the history of Holdenville hospital.[3]
At age 12, Pickens delivered newspapers. He quickly expanded his paper route from 28 papers to 156.[4] Pickens later cited his boyhood job as an early introduction to "expanding quickly by acquisition", a business practice he favored later in life.[4]
When the oil boom in Oklahoma ended in the late 1930s, Pickens' family moved to Amarillo, Texas.[4] Pickens never served in the military[4] but instead attended Texas A&M on a basketball scholarship, but he lost the scholarship[4] and transferred to Oklahoma A&M (now Oklahoma State University), where he majored in geology. He is a member of the Sigma Alpha Epsilon Fraternity. He graduated from Oklahoma A&M with a degree in geology in 1951. Following his graduation, Pickens was employed by Phillips Petroleum. He worked for Phillips until 1954.[5] In 1956, following his period as a wildcatter, he founded the company that would later become Mesa Petroleum.[5]