IF YOU ARE ONE OF THESE POLICE OFFICERS THAT QUIT AND YOU WANT TO TALK TO ME PLEASE CONTACT ME.  YOUR IDENTITY WILL BE KEPT CONFIDENTIAL.
IT was brought to my attention that nearly 50 Dallas police officers quit in the month of June.  So many that they are telling them they can't get the paperwork done quick enough so they are telling them they can't quit when they want to.
So how do they spin it?  They will ask for more money because they claim its due to low morale and low pay.  RIGHT!  Maybe the low moral is because the ones that quit have integrity and are pissed they were being told to participate in the scam that was the DHS-funded HOAX shooting in downtown Dallas last week.   That seems more likely to me.
I also just found this:
Cops Quit Baltimore Force In Droves While Murder Soars
Read more: http://dailycaller.com/2016/07/07/cops-quit-baltimore-force-in-droves-while-murder-soars/#ixzz4EsCnXKIE
A source inside of the San Bernardino County Sheriff's Department has confirmed that police were engaged in an active shooter drill on November 30 at Victor Valley Community College just prior to the massacre in San Bernardino. The exercise has been publicly confirmed by official sources.
Unconfirmed reports are emerging that police may have been engaged in an active shooting drill or an emergency drill just blocks away at the very moment the real shooting took place on December 2, 2015.
It's worth noting that an active shooter drill was taking place during the Sandy Hook school shooting in 2012 and the U.S. military was carrying out an exercise simulating aerial attacks against domestic targets using airplanes at the very moment that 19 hijackers reportedly crashed three commercial airliners into the World Trade Center towers and the Pentagon on September 11th, 2001.
Like I have said a thousand times.  They are all drills if you see it on TV.
and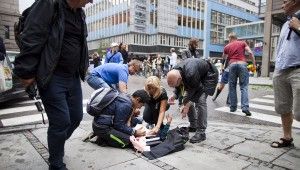 The bombing in Oslo, Norway, and the mass shooting of youngsters at a youth camp near the capital two hours later on Friday are embroiled in tragic irony, following a distinctly more peaceful approach to global policies by the Norwegian government.
A large explosion tore apart government offices in Oslo on Friday afternoon, killing seven people and injuring many more, inside and outside the buildings in the city centre.
Later the same day, a lone gunman dressed in a police uniform opened fire on people attending a Labour Party youth camp on an island at Tyrifjorden Lake, where at least 10 people were reportedly killed. One eyewitness said he saw 20 bodies.
Norwegian police caught the gunman (a Norwegian man) alive; however, no one has claimed responsibility for the bomb attacks in the city.
In a Friday evening speech, Norwegian Prime Minister Mr Jens Stoltenberg said whoever was behind the attacks 'will not destroy our democracy'.
"No one will bomb us into silence… No one will scare us from being Norway," he said.
US president Barack Obama immediately labelled the blast a 'terrorist attack' and said it was a 'reminder that the entire international community has a stake in preventing this kind of terror from occurring'.
Obama's reaction follows recent pressure from the US on Norway to contribute more in Libya military campaign.
Norway has been resisting that pressure and pushing for a more peaceful approach to the US-led NATO attacks on Libya and refused to provide weapons to NATO, finally announcing last month that Norway would quit its military role in Libya by August 1.
In March, as the US was rallying unilateral support to invade Libya, Norway's minister of foreign affairs Mr Jonas Gahr Støre was one of the few nations to warn the US against armed intervention in Libya.
Norway initially supplied six fighter jets for Libya operations and has carried out about 10% of the Libya strikes since 1st March. However, US officials singled out Norway and Denmark for their 'lack of commitment' to mission to oust Gaddafi.
The Oslo bombing also has the hallmarks of the 9/11 World Trade Center attack in New York and the 7/7 London bombings. As with those two incidents, Oslo police had conducted uncannily similar training scenarios just 48 hours before the bombing.
"In the case of the London bombings, a consultancy agency with government and police connections was running an exercise for an unnamed company that revolved around the London Underground being bombed at the exact same times and locations as happened in real life on the morning of July 7th, a 'coincidence' many skeptics of the official story have dismissed as a statistical impossibility," American reporter Alex Jones wrote on his website.
ALL DRILLS
In a continued effort to update my site, I come across images that have suddenly disappeared from the server.  Good think I have multiple backups.  I constantly have to repost them.
Related Posts