For Part 1 Click here
For Part 3 Click here

The Business of Legend Making is a big one. Consider the possibilities. The sudden finding of a lost recording autographed in all (plus the signature is genuine because they just signed it yesterday). If you go to Ebay look at the price they get for a John Belushi autograph. Stevie Ray's guitar just sold to Guitar Center for $400,000+ what are you thinking its worth now that they will find out he's still alive and playing shows as St John and the Sinners. I think there will be some explaining to do.
Now remember, the person (the artist) playing the role of a rock god DOES HAVE THE SKILLS, I'm not trying to take away any of their talent, but their lack of morals and ethics is apparent. Just because the record label owns the pseudonym doesn't mean people like Morgan Freeman would be put in any position to lose his reputation if he were to stand up and put his foot down and tell the industry enough with this Bullshit. He has a large enough fan base to do so without worrying about its repercussions. Plus, if he did, he would find out that he will have a whole new group of followers that will stand by his side in an effort to rid that industry of the evil low life scum that control it and keep others that are just as talented from ever making their way to the charts just because they do not want to play their little game of control.
No Legend For You
Hugo Chavez was Ritchie Vallens
Can't blame the eating disorder for being stupid
Stevie Ray Vaughn (DOUBLE TROUBLE) Hint!
Is St. John Hunt (FB link)
Stephen "Stevie" Ray Vaughan (October 3, 1954 – August 27, 1990) was an American guitarist, singer-songwriter, and record producer. Often referred to by his initials SRV, Vaughan is best known as a founding member and leader of Double Trouble. Together with drummer Chris Layton and bassist Tommy Shannon, they ignited the blues revival of the 1980s. With a career spanning seven years, Vaughan and Double Trouble consistently sold out concerts while their albums frequently went gold.
He was born and raised in Dallas, Texas, and for a short period of time lived in Graham, Texas. [1] As the younger brother of Jimmie Vaughan, Vaughan started playing the guitar at age seven and formed several bands that occasionally performed in local nightclubs. At age 17, he dropped out of high school and moved to Austin to further pursue his musical career, joining groups such as Krackerjack, the Nightcrawlers, and the Cobras. In 1977, he formed Triple Threat Revue, a band that eventually evolved into Double Trouble and regularly performed around Austin. In 1982, Vaughan and Double Trouble performed at the Montreux Jazz Festival in Switzerland, catching the attention of musicians David Bowie and Jackson Browne. Bowie asked Vaughan to play on his upcoming studio album Let's Dance, while Browne offered the band free use of his personal studio in Los Angeles to record an album.
Janna Lapidus his girlfriend. Remember I have always said if you want to verify what I'm saying "Check the spouse and /or the kids."
On March 12, 1986, Double Trouble arrived in New Zealand for a performance at the Wellington Town Hall, where Vaughan was sitting outside his hotel room. Janna Lapidus, who was born in Russia, ran into Vaughan on the street and immediately struck up a friendship. In October 1986, while Vaughan was in the London Clinic for substance abuse, Lapidus visited him;[99] they both decided to be together after seeing an older couple in front of them during a walk in Hyde Park.[100]
During Vaughan's last two years before his death, he referred to Lapidus as his fiancée.
Here we see Hunt with his wife Mona Arnold
https://www.facebook.com/MONA.Adotcom
You cant tell me that's not Jana Lapidus.
Now for more conclusive evidence. Stevie Ray had a tattoo of a peacock on his chest. When I looked at some of the photos of Hunt pool side you can make out what's left of the tattoo on his chest that when overlaid with Stevie's you can see its a match.
Just a nose job and teeth fixed and the change is made from one person to the next personality. Still plays in a band and still is with the same woman.
Jimmy Hendrix
The artist that is better known as Morgan Freeman is also the artist that was known as Jimi Hendrix. His father is an actor as well, and is better known as Nelson Mandela. Get it? FREEMAN, as Mandela was said to be jailed for many years, all of which is just another lie.
Like I have always said, "If you want to verify the information you see on this site its as easy as checking the spouse and/or their children".  
We can see in the photo below the artist better known as Morgan Freeman is still with the same woman as when he played Jimi.
Still has the earring hole.
Nelson Mandela is Freeman's Father Just listen to the voice, you can't deny it.  
John Belushi
The artist also known as Michael Lerner is also the artist that played John Belushi. Now Belushi might be better known for his stand up and SNL cast member comedy, he was also one of the members of the Blues Brothers, with Dan Aykroyd.
Freddie Mercury Again all you have to do is check the spouse to verify the find.
Patsy Cline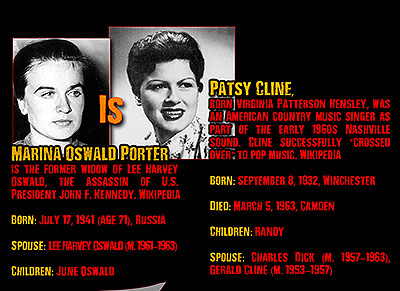 This one I suggest you watch my documentary so you understand the whole picture. The connection to Jim Reeves and Tex Ritter are established and the known fact that she was with Tex Ritter the day her supposed plane crashed is your connection to the JFK lie.
Skip to 50:00min in.
Not to mention the fact that Marina's daughter is the same person as Patsy's. Get it? Patsy? Oswald's wife, the JFK patsy.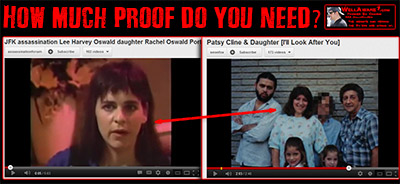 Jim Reeves
RY the Hatchet Guy
Pumpkins
Brothers and much more

Sleigh Bells
Motorhead
Dionne Warwick
Kid
  Hicks
  BING And thats Gretta Van Sustren below him in the shades.
Herbie Hancock NOT A MATCH but so close I will say very closely related.
  Will Smith
No he isn't but he is related to Armstrong who really is Obama.    
Pete Townsend
1 Lonely Dixie Chick I B
  Tex Ritter
John Lennon From Apple Records to Apple Computers, this bad apple spoiled the bunch. The cop that responded to and arrested the murder. hahaha yeah right that's Harvey again. So that in itself is your proof that the event was a scripted out FAKE event. No that you know this realize the millions the record company makes from the inflated prices they charge for memorabilia. That merchandise that can be created whenever they want because he's still alive. What a scam.
Waco
Another apple that doesn't fall far from the tree is Julian Lennon who we see here plays the role of David Koresh from the Waco raid.
Tiny Tim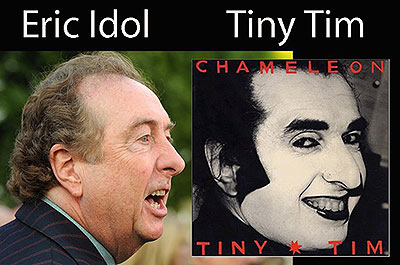 His son Tim Whales is of course Royalty
Marilyn Monroe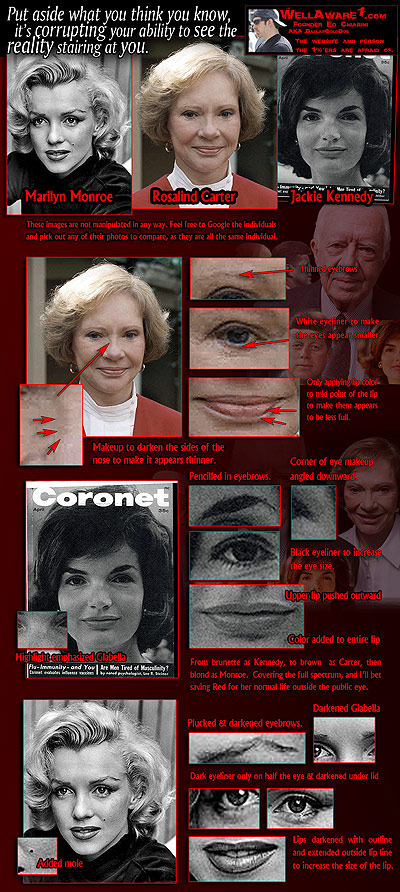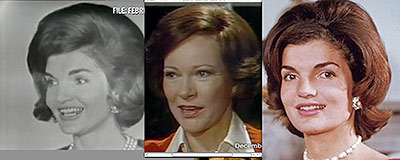 Not Dead Yet and NOT Steve He is Gary Gluckman
UPDATE ON ALICE COOPER. Steve Carrel is his cousin.
  2Pac alive and Eddie is his name.
Notorious B.I.G.  Is Cedric The Entertainer
Christopher George Latore Wallace (May 21, 1972 – March 9, 1997), best known as The Notorious B.I.G., was an American rapper and hip hop artist. He was also known as Biggie Smalls (after a character in the 1975 film Let's Do It Again), or Big, and as Frank White (after the main character of the 1990 film King of New York).
Cedric Antonio Kyles (born April 24, 1964), known professionally by his stage name Cedric the Entertainer, is an American actor, comedian and director. He is perhaps best known as the co-star of the WB sitcom The Steve Harvey Show, as Eddie in the Barbershop films, and as one of the four comedians featured in the Spike Lee film The Original Kings of Comedy. He currently has the lead role in the sitcom The Soul Man on TV Land.
 Same Mother