As I reported this before the Facebook IPO that the person you know as Mark Zuckerberg is really Jacob Michael Greenberg who also uses the name Jake  Becker.

See one of his buddies callin him out on his Facebook page.

Due to an arrest during the IPO of Facebook in Maricopa county Arizona, we find out his real birthdate.  The birthdate they report in the IPO filing with the SEC is fraudulent, in order to make him old enough to have attended Harvard as they claim is where he created the Facebook platform.  This is all a lie.  There are two violations that I filed whistleblower papers on him for.
The first is the fraudulent birth date making the background history of the corporation Facebook impossible and therefore is a lie.
Second, he was arrested for drug possession and drug paraphernalia at the same time they were going through the IPO and they failed to make that information available to the investors which is mandatory per the SEC rules.  They are claiming that sine he is not Mark Zuckerberg, and is Jacob that Jacob got arrested not the character he plays.  This is why they use the pseudonym, so they can protect the brand they create when they use an actor.
They reacted by immediately petitioning the court to seal the IPO information till the year 2018.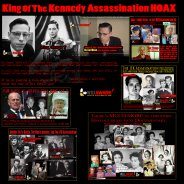 So I have uncovered Three Kings who played Roles in the JFK Assassination HOAX, and I personally knew two of them.  I will go into more details as I connect all the dots and put this information into video format.
read more